I love stitch dictionaries and they seem to follow me home from book sales as if I'm the pied piper. In this post I'll share a few dictionaries that are new and several classic favorites. Please also check out these previous posts, knit resources and crochet resources.
Why do I like to have so many? Sometimes seeing a stitch explained a little differently, next to another stitch, photographed a different way can make all the difference from my skipping swatching to it hopping on my needles or hook.
Upcoming Release
Every Which Way Crochet Borders
by Edie Eckman
Storey Publishing
Expected publication: January 24th 2017
This title will be a great resource for those who always turn to the same handful of crochet borders. Eckman begins with basics of crochet borders onto a variety of base fabrics and then jumps into creativity far beyond the simple foundation. I'm slowly working on adding a border to a fleece blanket, once I progress past my first round, I'll need to make a decision one which border from the vast catalogue provided. The attention to detail is what makes this book stand out, with clear photos, easy to spot categorizations of each border (wide/narrow, reversible, textured, etc.), instructions in both written and charted form, and more. I hope to provide a more detailed review when the book is available.
I received an early review copy from Storey Publishing through NetGalley, the FTC wants you to know.
New Release (Relatively)
The Knitting All Around Stitch Dictionary: 150 new stitch patterns to knit top down, bottom up, back and forth & in the round
by Wendy Bernard
STC Craft

Sometimes I knit flat, sometimes I knit in the round, sometimes I knit something toe or brim-up, and sometimes I knit cuff or crown-down. While I could convert most stitches quickly sometimes I just want to knit. I find that possible with Bernard's stitch dictionary. There are many classic stitch patterns from knit and purl combinations, to ribbing, to cables, and even lace. The first volume is Up, Down, All-Around Stitch Dictionary.
Classics
The Harmony Guide To Knitting Stitches

While this title is a new addition to my library, it's a classic; I'm very thankful to have found it at a local library book sale a few weeks ago.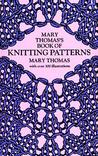 Mary Thomas's Book of Knitting Patterns
This was the very first knitting stitch dictionary I purchased. Even in this age of ebooks, I still turn to it when I want something light to tuck into my bag.




I'm a fan of the Barbara Walker Treasury of Knitting Patterns series. They are expensive, but if you are very very lucky and patient and haunt used book stores, it is possible to find them second hand. I use these in combination with Reversible Pattern Stitches in Barbara G. Walker's Treasuries Compiled by Mary Lee Herrick and The Walker Treasury Project. If you would like to purchase them as a complete set, I suggest ordering from Schoolhouse Press.
Do you have a favourite stitch dictionary?