Today I'll discuss a few of my favourite knitting resources. These aren't books for learning how to knit, but cover various techniques, garment construction, and stitch dictionaries. Below are several the books and websites I turn to while designing, editing, or just trying something new.
Earlier this week I reorganized the bookcases in my office/studio. I decided to put the knit and crochet essentials together. I think I like this new arrangement though I need to make a new habit of looking for the titles in their new spot!
Everyone has their favourites. These happen to be a few of mine.
Encyclopedic technique resources:
Reader's Digest Knitter's Handbook
by Stanley Montse
This is the book I actually learned to knit from. I really don't recommend that at all, but it has been my go-to book since August 2001.
Principles of Knitting
by June Hemmons Hiatt
This is considered The Book, it definitely weighs enough to claim that title! It has most knitters that have encountered it in either the love it or hate it camp and with it's heft and tone it reminds many a spinning resource I'll discuss next week. I don't take the author's word as the only law but find it very nice to have just about any technique I can think of in one place without being distracted by the rest of the internet.
Mary Thomas's Knitting Book
This is another classic resource that I like to turn to now and again. It's small size makes it nice to tuck into my knitting bag.
TECHknitting
This website that offers 8 years of reference materials. It's easy to be sucked in, so set out a block of time when you start exploring. There is a nice handy index to help you use your research time more efficiently.
Specific technique or design-type resources:
Knitting Without Tears
by Elizabeth Zimmermann
While any book by Elizabeth Zimmermann or her daughter Meg Swansen is bound to have useful information of all sorts, I believe this is the classic introduction to EZ's work. I still enjoy curling up with it now and again.
Knitting with Two Colors: Techniques for Stranded Knitting and Designing Color-Patterned Garments
by Meg Swansen and Amy Detjen
This slim book somehow fits a multi-day workshop on color knitting between its covers. It is a class that doesn't rely on travel or modern technology (or electricity)! It took me an inexplicable long time to purchase my copy and I regret that, it would have made several sample colour-work knitting projects much easier and with fewer tangles. You can pick up your copy from Schoolhouse Press or many other locations. Disclaimer: I am friends with Amy and do some work for her, but I purchased my own copy and would say these things about the book regardless!
Knitting from the Top
by Barbara G. Walker
This is my first stop for working on sweaters. I then shift into into others including Sweater Design in Plain English.
The Knitter's Handy Book of Patterns
The Knitter's Handy Book of Top-Down Sweaters
by Ann Budd
This series (there are others not pictured) is great for providing a spring board of shapes and general instructions at various gauges. I wish I had a copy of the Top_down Sweater book when I knit my husband's sweater a few years ago, it would have been a nice confidence boost to be able to quickly check my maths.
Stitch dictionary resources:


I'm a fan of the Barbara Walker Treasury of Knitting Patterns series. They are expensive, but if you are very very lucky and patient and haunt used book stores, it is possible to find them second hand. I use these in combination with Reversible Pattern Stitches in Barbara G. Walker's Treasuries Compiled by Mary Lee Herrick and The Walker Treasury Project. If you would like to purchase them as a complete set, I suggest ordering from Schoolhouse Press.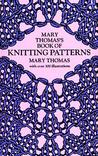 Mary Thomas's Book of Knitting Patterns
This was the very first knitting stitch dictionary I owned for many years. It's still a favourite when I want something light to tuck into my bag.
新・模様の編み方—棒針あみ 記号の見方から応用パターンまで (ヴォーグ基礎シリーズ) (大型本) (Knitting Signs and Make Patterns)
This is a stitch dictionary in Japanese and I find it helpful to navigate Japanese knitting patterns as there are clear technical drawings. One day I would like to own Knitting Lanaguages by Margaret Heathman. I very much regret not purchasing a copy for all of $34 when I saw it at a store 2005. This is basically a large dictionary translating each knitting term into different languages.
I'm a fan of any stitch dictionary in any language, the way the stitches are laid out, photographed, drawn, written up, charted, helps me think of them in different ways before I get the needles out to swatch.
Stitch Maps
This website offers knitters a new kind of chart. Free of the standard grid, the design helps you see the shape of the fabric and how the stitches connect to each other. If you haven't explored the site yet, I urge you to do so.
Do you have a favourite knitting resource either traditional (a book) or new (a website or video channel)? Please let me know what it is and why, I'm curious! Next week I plan to discuss some spinning resources that I rely upon.